Back to Our Rep Firm Members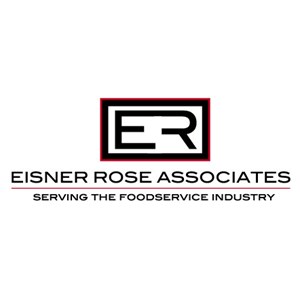 Eisner Rose Associates, Inc.
Organization Overview
Eisner Rose Associates, Inc. represents worldwide manufacturers' products that focus on the Foodservice and Hospitality industry. We believe in building strong relationships with our factories, distributors, & end users, by focusing our emphasis on channeling products through distributors. Our group currently covers the entire state of Florida (including the panhandle). Our core marketing strategy concentrates on small equipment, tabletop (Chinaware, glassware, flatware), buffet enhancements, hollowware, buffetware, food safety products, shade equipment, banquet chairs & tables, etc. The manufacturers within our portfolio compliment each other & provide complete "one stop shop" for the end user's needs. Eisner Rose Associates emphasizes quality products with warehouses within the United States. Our 20+ years plus experience in a variety of foodservice sales & operations positions will be an asset to the factories we represent. Our three main goals are to exceed customers' expectations, build strong, solid business relationships, and increase market share within the state of Florida for our factories. We believe by educating the end user on our factories products builds a sound foundation for future market share within Florida.
Jonathan Eisner
President
Lisa Eisner
General Manager Eisner Rose Associates, Inc. (Boca Raton FL Office)
Boca Raton, FL
Eisner Rose Associates, Inc. (Brandon FL Office)
Lake Worth, FL Eisner Rose Associates, Inc. (Winter Garden FL Office)
Winter Garden, FL

Rep Company
---
Brands - Equipment A-K
BK Resources, DoughXpress, Equipex-Sodir
Brands - Supplies/Smallwares
CDN, Crestware, Elite Global Solutions, Frieling USA, Matfer Bourgeat, Spill-Stop
Brands - Tabletop
Chef Specialties, Churchill China, Costa Nova, Hospitality Glass Brands, Risch, Vertex China
Brands - Furniture
BFM Seating, emuamericas, Midwest Folding Products, Tuuci
Product Categories - Overall
Equipment, Supplies/Smallwares, Tabletop, Furniture
Product Categories - Equipment
Bakery, Bar, Blenders/Juicers, Display/Merchandising
Product Categories - Supplies/Smallwares
No Supplies/Smallwares, Bakeware, Barware, Buffetware/Displayware, Chef Apparel/Shoes, Cleaning Tools/Supplies, Cookware/Pans, Cutlery, Disposables, Kitchen Utensils, Storage Containers, Temperature Measurement/Food Safety, Textiles
Product Categories - Tabletop
China - Fine, Dinnerware, Drinkware, Flatware, Menus, Servingware, Tabletop Accessories, Trays/Patient Tray Tops
Product Categories - Furniture
Bars, Booths, Seating, Tables
Product Categories - Technology
Product Categories - Jan/San/Disposables
Cleaning Compounds and Related Dispensers
Showroom
Test Kitchen - Onsite
Test Kitchen - Mobile
Total Personnel for Rep Firm
Region Code
Territory
Florida (not including Panhandle)
Link to Line Listing
Year Joined MAFSI
Year Company Founded
Looking for New Partners - Equipment Categories
Bakery, Bar, Beverage, Blenders/Juicers, Coffee, Combi-Ovens, Cooking - Countertop, Cooking - Heavy, Custom Fabrication, Dispensing - Food, Dispensing - Paper, Display/Merchandising, Food Preparation, Fryers, Hardware/Fixtures, Healthcare, Holding/Transport, Ice Cream, Ice Machines, Janitorial & Safety, Microwaves, Refrigeration - Reach-In, Refrigeration - Walk-In, Sanitation, Serving, Shelving, Steam, Storage/Handling, Ventilation, Warewashing, Waste Handling/Reduction
Looking for New Partners - Supplies Categories
Bakeware, Barware, Buffetware/Displayware, Chef Apparel/Shoes, Cleaning Tools/Supplies, Cookware/Pans, Cutlery, Disposables, Kitchen Utensils, Storage Containers, Temperature Measurement/Food Safety, Textiles
Looking for New Partners - Tabletop Categories
China - Fine, Dinnerware, Drinkware, Flatware, Servingware, Tabletop Accessories, Trays/Patient Tray Tops
Looking for New Partners - Furniture Categories
Bars, Booths, Seating, Tables
Looking for New Partners - Jan/San/Disp Categories
Cleaning Compounds and Related Dispensers
Looking for New Partners - Contact Name
Scot Rose & Jonathan Eisner
Looking for New Partners - Contact Email
scot@eisnerrose.com & jonathan@eisnerrose.com
Looking for New Partners - Contact Phone (Optional)